10 ROMANTIC HONEYMOON DESTINATION IN NIGERIA
I am sure you are looking forward to spending that special moment during your honeymoon with your partner. Aren't you? Put the stress of your wedding behind you and enjoy that special time with your partner.
There is this belief among Nigerians that there are no nice spots in Nigeria, that you have to travel outside the country before you can have enjoy your honeymoon.
Couples, brides especially, prefers to spend this period in romantic and exotic destinations so as to have a memorable experience and also brag in their storytelling to their friends and families on their return.
I am happy and ready to help you make that dream of having a memorable honeymoon become a reality without spending much.
1. OBUDU MOUNTAIN RESORT:
Formerly known as the Obudu Cattle Ranch. It is a ranch and resort on the Obudu Plateau, close to the northeastern part of Cross River State. Things you and your spouse can participate in when you get to the resort are:
Get on the Cable Car: When you get to the resort, either drive from the bottom of the hill or take the cable car to get to the top of the resort centre. The hilltop is about 11 km of winding road from the base. Driving up takes about 25 minutes while using the cable car takes about 6 minutes. This Cable Car transport has been described as the longest cable car in the African continent.
Play Outdoor Games: there are activities like swimming, horse riding, golfing and hiking. You get to enjoy time in the water and to relax on the outdoor pool bed.
Join the Mountain Race: this competition has an attractive cash price. The only BUT there is, it is only held in November. You may be lucky, your honeymoon may fall into that period and if not, enjoy the other activities in the resort.
Get on the Canopy Walkway: this is a 100m swaying bridge which is suspended in the air. This would would afford the opportunity of enjoying the view of the beautiful forests around Obudu Mountain Resort.
Go sightseeing check out the resort by going on a sightseeing adventure. Take lovely pictures that will serve as memories.
The room rates at Obudu Mountain Resort are per night and it comes with a complimentary breakfast and free WIFI.
2. EPE RESORT AND SPA:
The resort is made up of 40 tastefully designed and fully equipped rooms that showcases the cream of Nigerian culture. The rooms are comfortable and spacious, each with a king – size bed adorned in regional décor. The perfect scenery for your honeymoon. The resort has the following facilities:
Table Tennis: it is very relaxing and popular with the guests.
Tennis Court: a full size tennis court that can also be used as a basketball court
Swimming Pool: clear, blue and refreshing for cooling down or sundowners.
Bicycles: you get to cycle in the resort with the big and small bicycles available.
Volleyball:
Rooftop Bar and Pizzeria: enjoy the best of nature view in Lagos by relaxing with delicious pizza and drinks. There is also the option of partying.
Spa: there is complimentary massage on arrival. You can do your pedicure, manicure here.
3.YANKARI GAME RESERVE AND RESORT, BAUCHI:
 The resort is located at Wikki Camp, Bauchi State. It is one of Nigeria's foremost tourist attraction. It is perfect for a honeymoon because of its solitude.
The resort boasts of facilities like:
Swimming: there is an outdoor pool
Bar: relax by taking bottles of drinks.
Bush Bar
4. THE WHISPERING PALMS, BADAGRY:
Whispering Palms Resort is one of the most popular romantic getaways and popular tourist destinations in Nigeria offering maximum fun and serenity. this is a resort that is located in the heart of Badagry, away from the hustle and bustle of Lagos state. You will enjoy a beautiful scenery overlooking the lagoon in the coastal town of Badagry while you seat by the seaside sipping your natural coconut juice, pina Collada or grace yourself with the intercontinental dishes that this resort has to offer.
The resort offers:
Mini zoo: enjoy the sight of the beautiful animals at the zoo.
An Art gallery
Swimming pool
Outdoor Bar
Basketball court
Volleyball court
An open Museum
A Sports Centre
A gym
Boat ride: to make your stay more memorable, take a boat ride to habe a feel of the coastal town of Badagry.
Bicycle Ride
Water sports activities like bicycle boats and pedal boats.
5. KAMP IKARE BEACH RESORT, LAGOS:
This is the perfect honeymoon spot because you are looking for some solitude and a romantic getaway. This location with its rustic beauty with modern touches is perfect for you and your partner. You can only access the resort by a boat ride. You will get a complimentary breakfast from the resort.
Activities to look out for in this resort are:
Water Sports: you can play a game of volleyball, go on a jet skiing adventure or enjoy a leisurely boat ride around the Ikare Island.
Swimming: there is a swimming pool with a Miami – style lounge, bar and grill right beside it. You can enjoy a relaxing swim or by the pool with drinks and some kebabs, grilled to perfection.
6. IKOGOSI WARM SPRING RESORT, EKITI:
This beautiful resort is located in Ikogosi town in Ekiti State, and it is one of the many beautiful gifts of nature to Nigeria. This resort became famous for its warm and cold springs forming a confluence at a point in the resort without mixing and still retaining their thermal properties. The resort has a beautiful landscape with lush green vegetation and well-manicured gardens.
Facilities at Ikogosi Warm Spring Resort, are:
Warm water Swimming pool
Bar
Theme Park
Amphi Theatre
Fitness center
Brook Walk Lanes
7. JARA BEACH RESORT, LAGOS:
A trip to Jara Beach is synonymous with going to Wonderland. The all 6 air-conditioned accommodations feature sitting areas. Smart TVs come with satellite channels and Netflix. They also offer free breakfast.
Facilities in the resort are:
Swimming pool
Spa
Free WIFI
Bar
8. LA CAMPAGNE TROPICANA BEACH RESORT, LAGOS: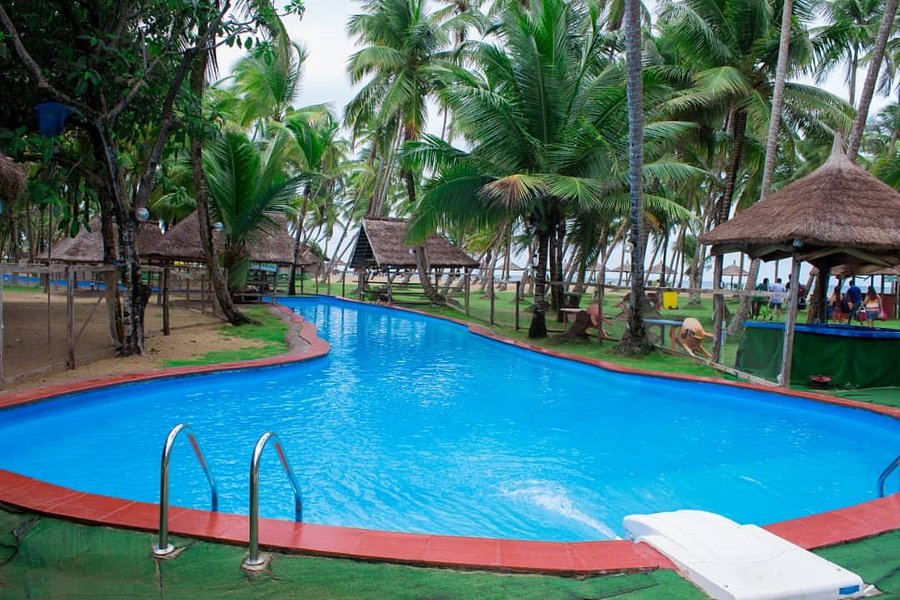 Welcome to paradise! No jokes here. La Campagne Tropicana Beach Resort is an African themed beach, lagoon and forest resort located in Lagos Nigeria.
Facilities at the include:
Boat Cruise: LA campagne tropicana boat cruise from Radisson blu hotel,Victoria to the resort. Experience one and a half hour of comedy,food,music ,dance and beautiful scenery .
Jet Ski: A small jet-propelled vehicle which skims across the surface of water and is ridden in a similar way to a motorcycle. Jet Ski is the brand name of a personal water craft.
Kayaking: Kayaking is the use of a kayak for moving across water. It is distinguished from canoeing by the sitting position of the paddler and the number of blades on the paddle.
Swimming pool:
Beach Soccer: also known as beasal is a variant of association football played on a beach or some form of sand.
Water Volleyball
Snooker and Bar
Horse riding
African shaped pool
Swings
Bicycle ride
Basketball
9. EKO TOURIST RESORT, LAGOS:
It is a privately-managed beach located along the Lagos – Epe Expressway. The resort, with a view to "providing guests and organizations with an affordable recreational place where they can think through ideas, review strategies, unwind, meditate and relax," no doubt, offers premium comfort and relaxation.
Facilities in the resort are:
Amusement Park
Archery
Beach football
Table tennis
Quad biking
Boat riding clinic
10. LA MANGA LUXURY BEACH VILLA, LAGOS:
It is located along Ilashe Beach on the beautiful Island of Ilashe in Lagos State, Nigeria. Ilashe Island is 15 minutes boat ride from Ikoyi and Victoria Island, bordering the Badagry creek and the Atlantic Ocean. This villa will give you a little piece of paradise with its Spanish architecture, rooftop jacuzzi, private lounge, swimming pool, massage room, beachfront living room with an open lounge, furnished kitchen, bar and poolside barbeque grill area.
ALSO READ: UNCONVENTIONAL FIRST DATE IDEAS THAT'LL BREAK THE ICE