Job opportunities in music: 9 jobs related to music
Music artists are the most popular and perhaps the only job opportunity in music people think of. Did you want to work with music? We list here 9 works that are related to this area.
Is there anything better than working with something that gives you so much joy? And even more when it comes to music.
In the list below, there are tips for all tastes and abilities.
Working with music: introduction
Before we go to our list with job opportunities for those who want to live on music, it is important to alert you to this:
If you want to act in the musical field, then you need to know about it. If you want to work as an arranger or studio musician, then you need to learn to play your musical instrument well and understand musical harmony, etc.
It is impossible to do well in this area without this prior knowledge according to the chosen profession.
Let's go to our list now!
1. Arranger
If you have mastery of theory and musical harmony, then you can make arrangements. So many singers and bands want to record an album and search for a good arranger because they know that he can do a lot for his compositions.
The job of an arranger is to take a simple song with a voice and guitar and transforms it completely. It indicates elements that will improve the interpretation, when one and the other instrument appears and what it does, etc. Therefore, a lot of study and practice is important to start in this area.
2. Studio musician
Many bass guitarists, drummers, keyboards, etc., famous and anonymous act as studio musicians. What you're going to do is play singles or singers 'or bands' albums.
You must have a little experience in the recording studio. You will have to rehearse a lot to get there to record very well, as the studio charges by the hour and the producers do not want to waste time or more resources.
As a studio musician, you can make a good amount monthly. This is an excellent way to work with music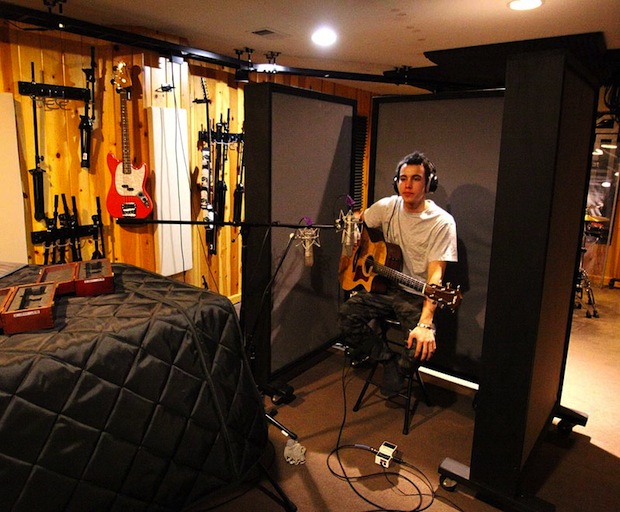 3. Play in a band or for a singer
Like a studio musician, you can be hired by a band or singer. Most of the musicians who play with famous artists act like that.
You are usually paid for a show or event that plays together with the singer and /or band.
4. Act as a composer
Successful composers earn a lot of money and if you want to specialize in it, you need to know what you do.
One tip we leave here is that you specialize in a musical genre. It is easier to be able to compose commercially when you have this defined because you start creating thinking about a singer or band.
You don't need to know how to play an instrument to compose, but it would be ideal. It is possible to just write the lyrics, but in that case, you would not be a composer, but a lyricist.
5. Work with music production
If you like the audio field, then you can learn about music production. With the advancement of technology, nowadays it is possible to produce professional music with few resources. Still, it is necessary to study hard to get the best out of your equipment. But this is another excellent way to earn a living with music.
6. Do the production or editing of a podcast
Another area that has shown itself to be promising (still in its infancy) is the production of podcasts. Radio-style programs but made for the web, being consumed on computers, smartphones, etc.
The job of a podcast editor is relatively simple and requires little equipment. But what you need to master is the audio editing part.
There are still other things you can do here, such as creating tracks and vignettes for the programs.
7. Edit scores
If you understand music theory, you can work with editing scores. Many musicians need to register their music at the National Library, but they do not know how to make sheet music and here you can offer this service to them.
8. Work with maintenance and repair of musical instruments
If you have the skills to do this (again, if you have the skills) another area where you can work is with the repair and maintenance of instruments.
Of course, here you will have to specialize in a type like only repairs and repairs of violins and guitars or key instruments, etc.
9. Acting as a sound technician
Finally, a profession that is almost always in demand is that of a yes technician, especially if you are good at it. To be a sound technician you need to understand audio and sound equipment in general.