Keyboard instruments accessories that are indispensable
Anyone who plays an instrument knows that accessories are essential integral of musical instruments. They make them sound more professional and bring more practicality and comfort to those who are playing.
The accessories for the musical keyboard are very varied and fulfil different roles in time to practice or perform.
In this article, you will see the importance of investing in accessories and the main ones for playing the keyboard with excellence. Follow up:
The importance of music keyboard accessories
A good keyboard player needs the comfort and accessories to help him get the best sound from his instrument. The more comfortable he is and the easier he can access what he needs in each part of the song, the better he will perform.
And that's where the need to have quality accessories that are compatible with your musical instrument comes in. It is essential to have items that make playing time more practical and comfortable, especially for those who spend hours rehearsing or playing shows.
Some of the most used keyboard accessories
Supports
The support in the keyboard is one of the most important accessories when it comes to products for this instrument.
You can choose a stand compatible with your keyboard model, with height adjustment or dual. For those who have a piano, there is still the option of choosing their bookcase to provide more security.
Protective covers
The covers are very suitable to protect the keyboard from dust or even the fingerprints of other people who pass and touch the instrument. They are often easy to clean as they are made of plastic. There is also the option of covers with handles, for easy transport.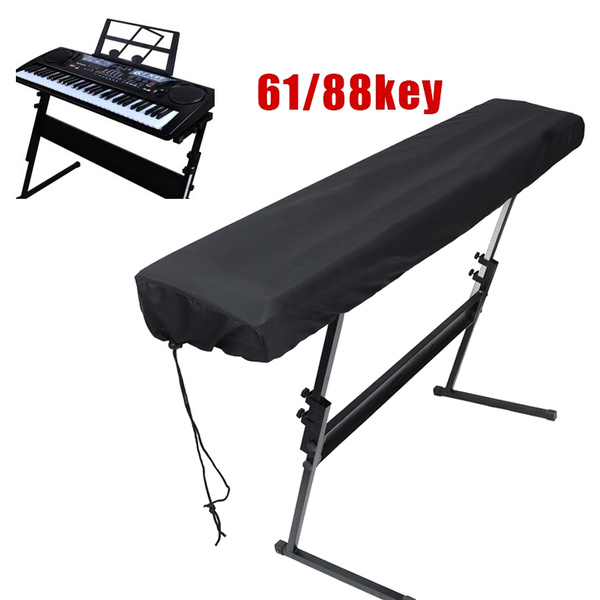 Music stand
The music stand is in the middle of the keyboard and offers support for placing books, papers, and notebooks with the music scores to be played. It has adjustments that help you fit the correct size you need so that it doesn't run the risk of falling out during the presentation.
Banks
And when it comes to comfort, a good keyboard or piano bench is essential. In addition to bringing more comfort to the player, it must have height adjustment so that each person can lower or raise their hands comfortably supported on the keys.
Pedals
The pedal is helping bring more sound to the keyboard notes. While you are activating the pedal, the note will be prolonged to give more rhythm to the songs and to customize compositions.
Conclusion
Accessories for a musical keyboard are many and help a musician's daily life a lot. The tip is to always keep an eye on the compatibility of accessories with your instrument so you can use it to the full.
Did you like the article? Share this post with your friends on your social networks and help them buy the right keyboard accessories. You can as well visit our website on 234gist for topics on music and musical instruments.